Peter Brötzmann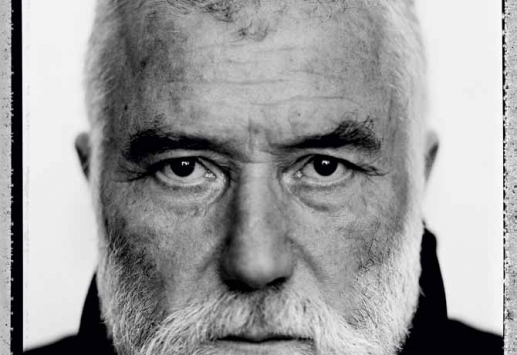 Peter Brötzmann (born 6 March 1941) is a German artist and free jazz saxophonist and clarinetist.
Brötzmann is among the most important European free jazz musicians. His rough timbre is easily recognized on his many recordings. He first taught himself to play various clarinets, then saxophones; he is also known for playing the tárogató. Among his first musical partnerships was that with double bassist Peter Kowald.
1968, the year of political turmoil in Europe, saw the release of Machine Gun, an octet recording often listed among the most notable free jazz albums.
The album Nipples was recorded in 1969 with many of the Machine Gun musicians including drummer Han Bennink, pianist Fred Van Hove and tenor saxophonist Evan Parker, plus British free-improv guitarist Derek Bailey.
In the 1980s, Brötzmann flirted with heavy metal and noise rock, including a stint in Last Exit and subsequent recordings with Last Exit's bass guitarist and producer Bill Laswell.
Brötzmann has released over fifty albums as a bandleader, and has appeared on dozens more. His "Die Like A Dog Quartet" (with Toshinori Kondo, William Parker and drummer Hamid Drake) is loosely inspired by saxophonist Albert Ayler, a prime influence on Brötzmann's music. Since 1997 he has toured and recorded regularly with the Peter Brötzmann
Chicago Tentet (initially an Octet) which he disbanded after an ensemble performance November 11, 2012 in Strasbourg, France.
Brötzmann has also recorded or performed with musicians including Cecil Taylor, Keiji Haino, Willem van Manen, Mats Gustafsson, Ken Vandermark, Conny Bauer, Joe McPhee, Paal Nilssen-Love and Brötzmann's son, Caspar Brötzmann, a notable guitarist in his own right.
---
---